How I made Francium at the Zoo
---
Hello everyone! Here's a quick summary of the different stages I went through to create Francium at the Zoo in 2 weeks during AdventureX Jam 2020! Honestly it's been a lot of work for a single person, and I was very tired yesterday when the jam ended.

For this article I will use the screenshots that I had made during these 2 weeks to show my progress in exclusivity to my Patrons on https://www.patreon.com/simon_asa
You could also see some of it on my twitter: https://twitter.com/Simon_ASA

As a starting point, I decided to make a new episode in my project "Francium" which I started this summer with Francium: A Museum for Robots (a game made with Visionaire Studio and watercolor illustrations), and then The King is Back: Francium 2 (which was a direct sequel, made this time to learn how to use Unity for the first time).
So was born Francium at the Zoo, a game set in the same world, with reminicent characters, which allowed me to start a new project/story but with an existing background.
Next I was helped by my friend illustrator John Carvajal, an american cartoonist who creates interesting and funny comics. You can discover some of his latest illustrations here: https://www.deviantart.com/jacarvajal/gallery
And he also sells his comic books there: https://linktr.ee/jacarvajal
They're really fun, I loved the humour and situations in Scraps, and how he depicted his own past challenges in Sunshine State.
So John sketeched for me a few new robots for the occasion: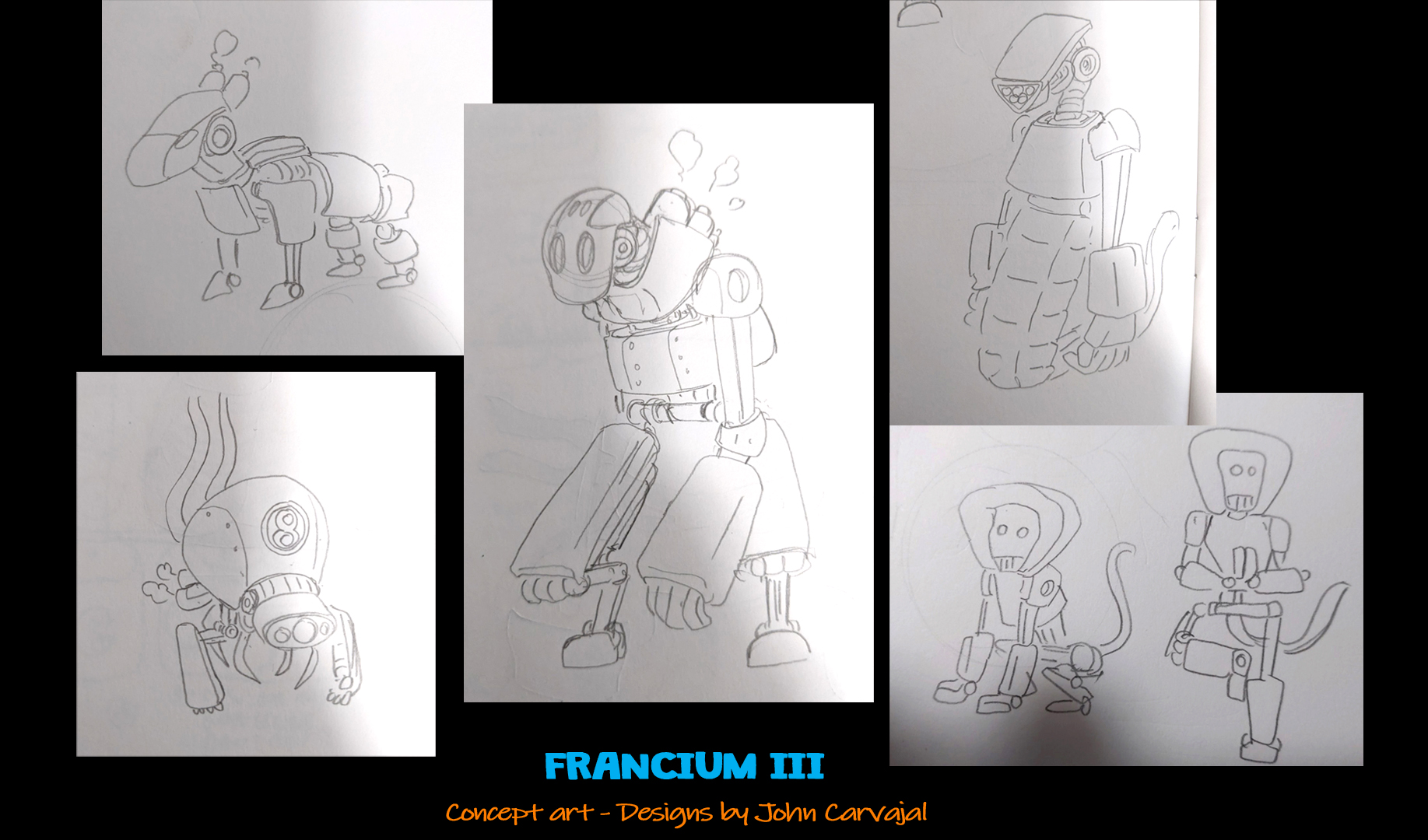 From there I started to model these new robots in 3D. Since 20 years now I use 3dsmax and I'm not very good with other software lol, so this is of course the tool that I chose to make them. Because the designs are quite simple (thanksfully), it allowed me to make this stage quite quickly. I didn't want to spend too much time on them because of the deadline of course.
I also took this opportunity to bring a few changes according to my needs. For example the "dog" from above became more of a "wolf of fox" (as you prefer), which in my opinion is better in a zoo!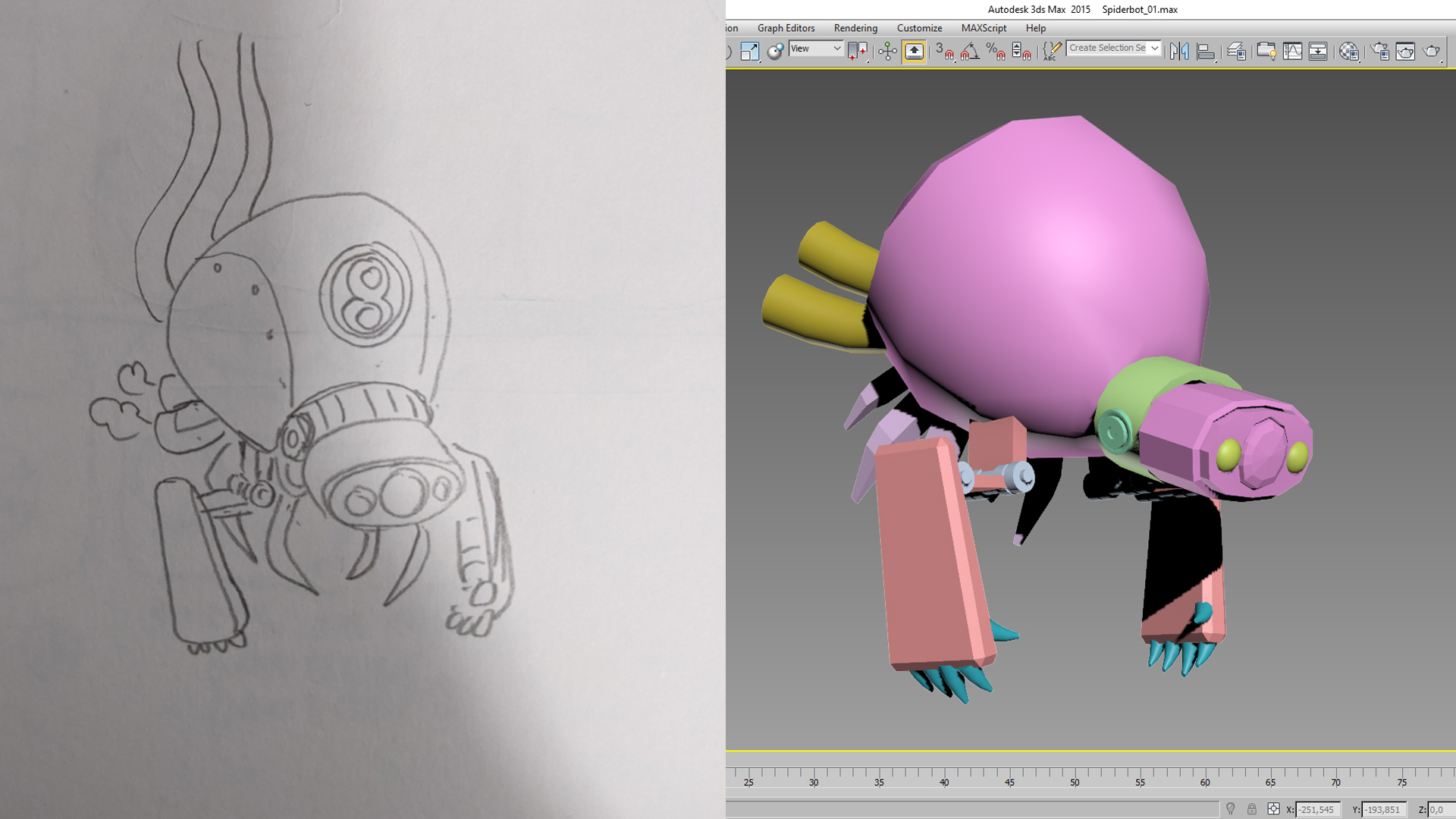 From that stage I created the textures. For that purpose, you have to unwrap UV coordinates, which means to make the 3d look flat in order to be able to paint it in a 2d software like Photoshop. It is not my cup of tea to do this, but it is a necessary stage. It looks like that: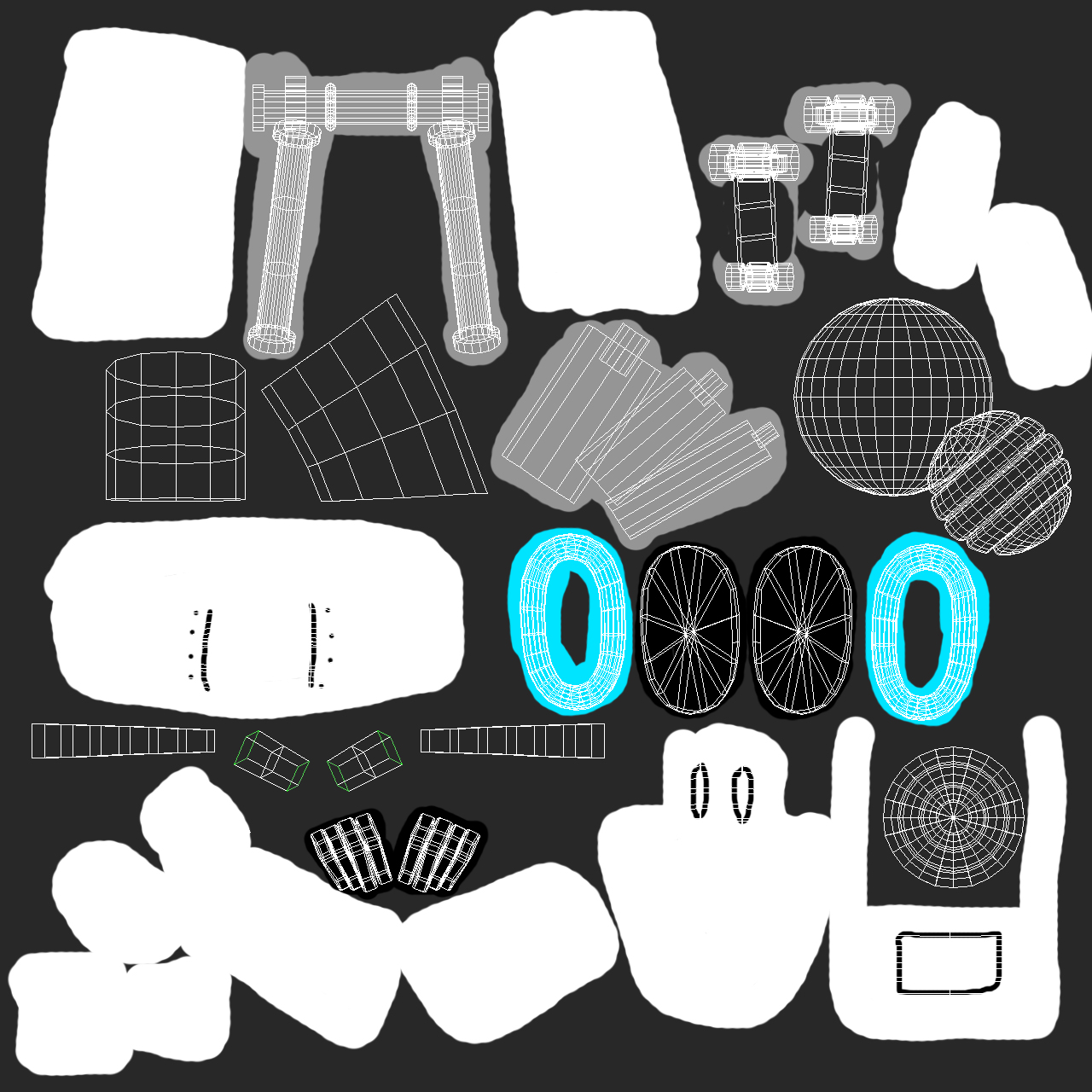 And this is the result: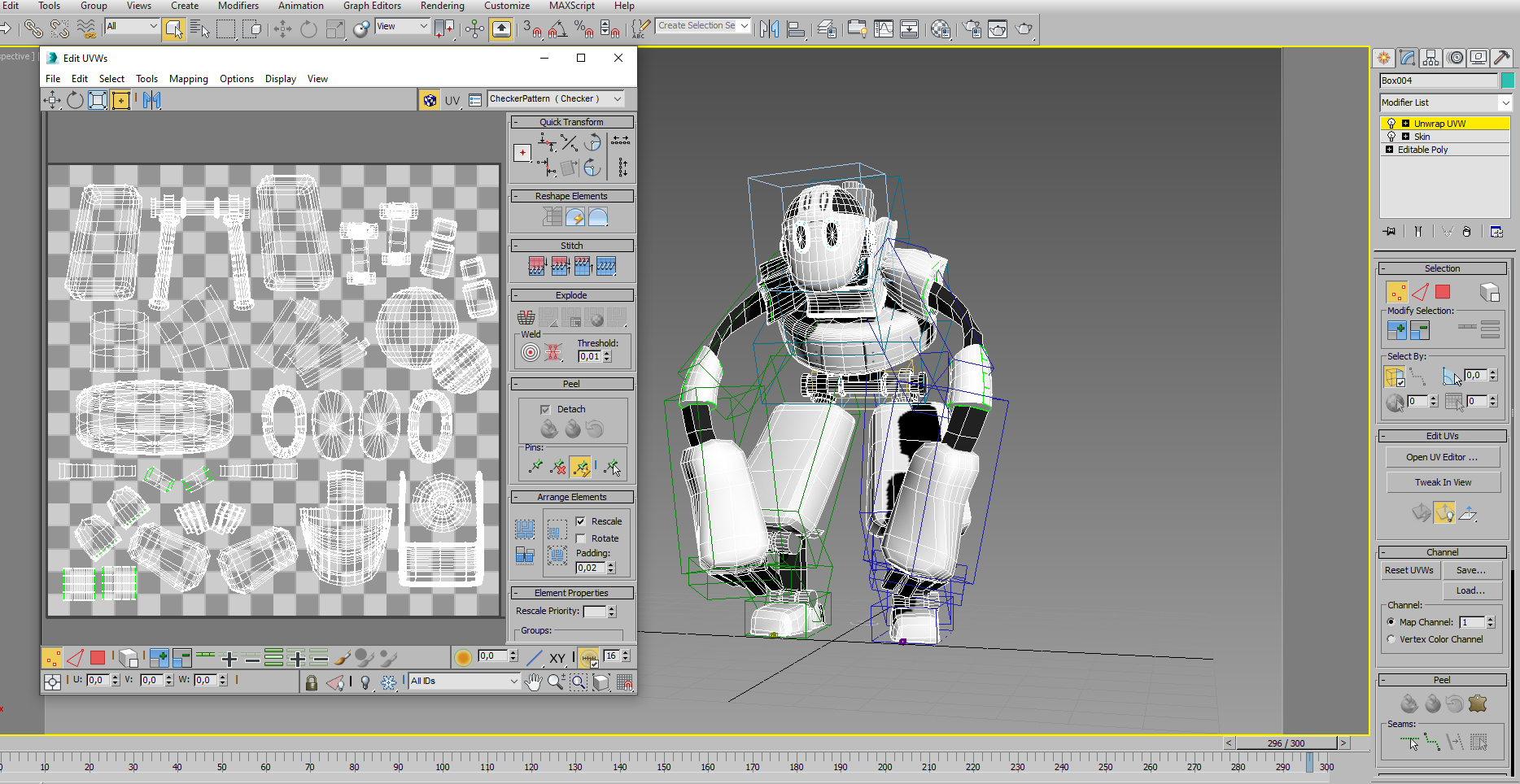 And finally, following the same process several times, here all of the robots with their textures!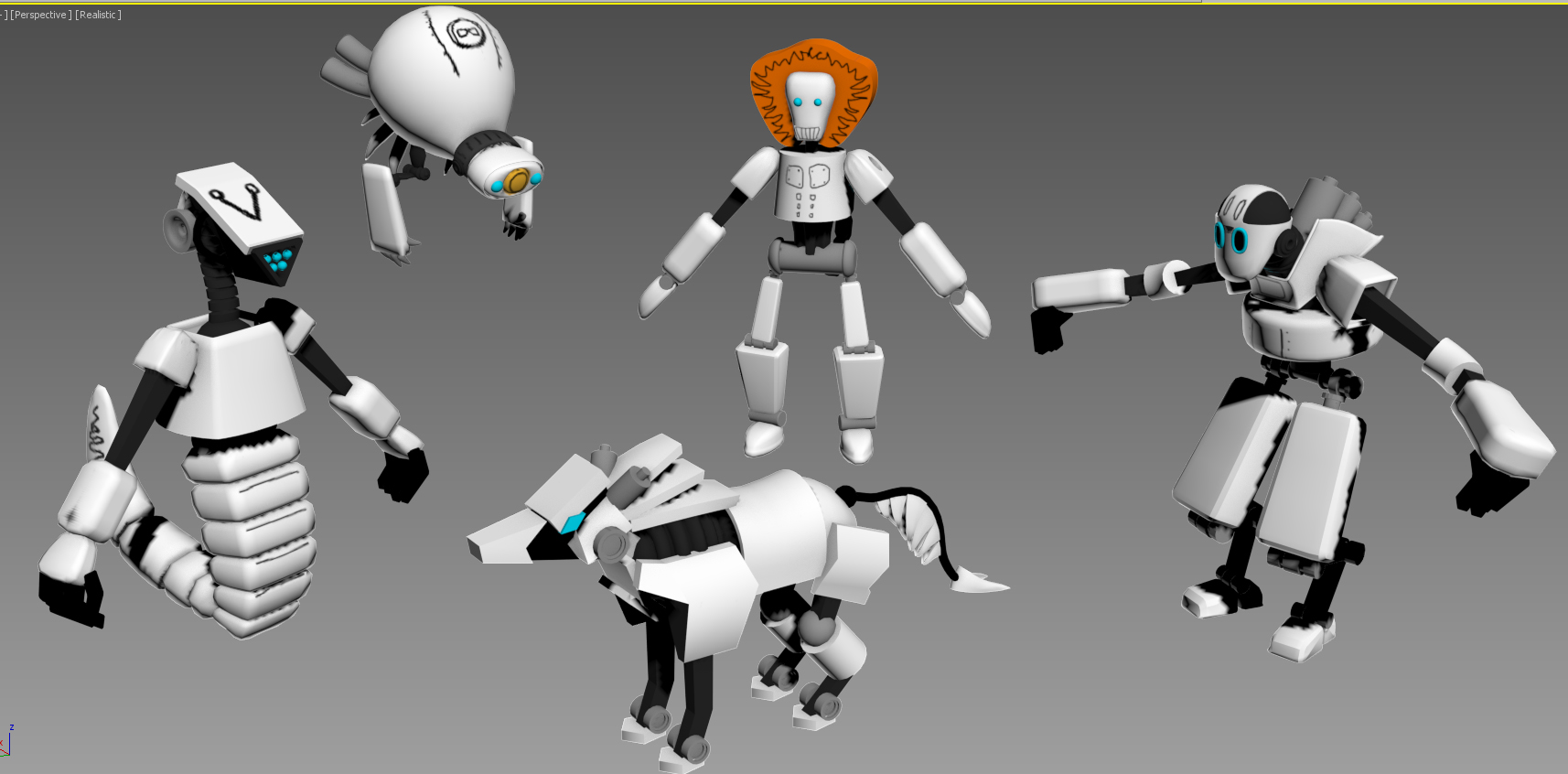 Those characters are textured but remain quite static. We want to give them life! In 3dsmax we have a skeletton (bones) preset which is quite convenient, called Biped (character studio). I have set up a biped for each of these robots and thus it allowed me to animate them.
I created all of the models and textures, so I didn't want to use premade animations and, as usual, I tried to do it myself. Even if everything is not perfect, I am always happy to see what I can do, and it adds a bit more personality to the game. As a result I have animated them using the traditional methode of keyframe animation. This is the result of the wait/talk (loop) animations for some of the robots:
But making the characters is not enough to make a good adventure game! Next stage is the creation of the scenes where the robots evolve. I knew that I wanted to do a kind of zoo so I tried to create a nice one that was inspired by some of the most famous zoos in the world. I then simplified most of the shapes to make the final result look a little cartoony, and this is what I get: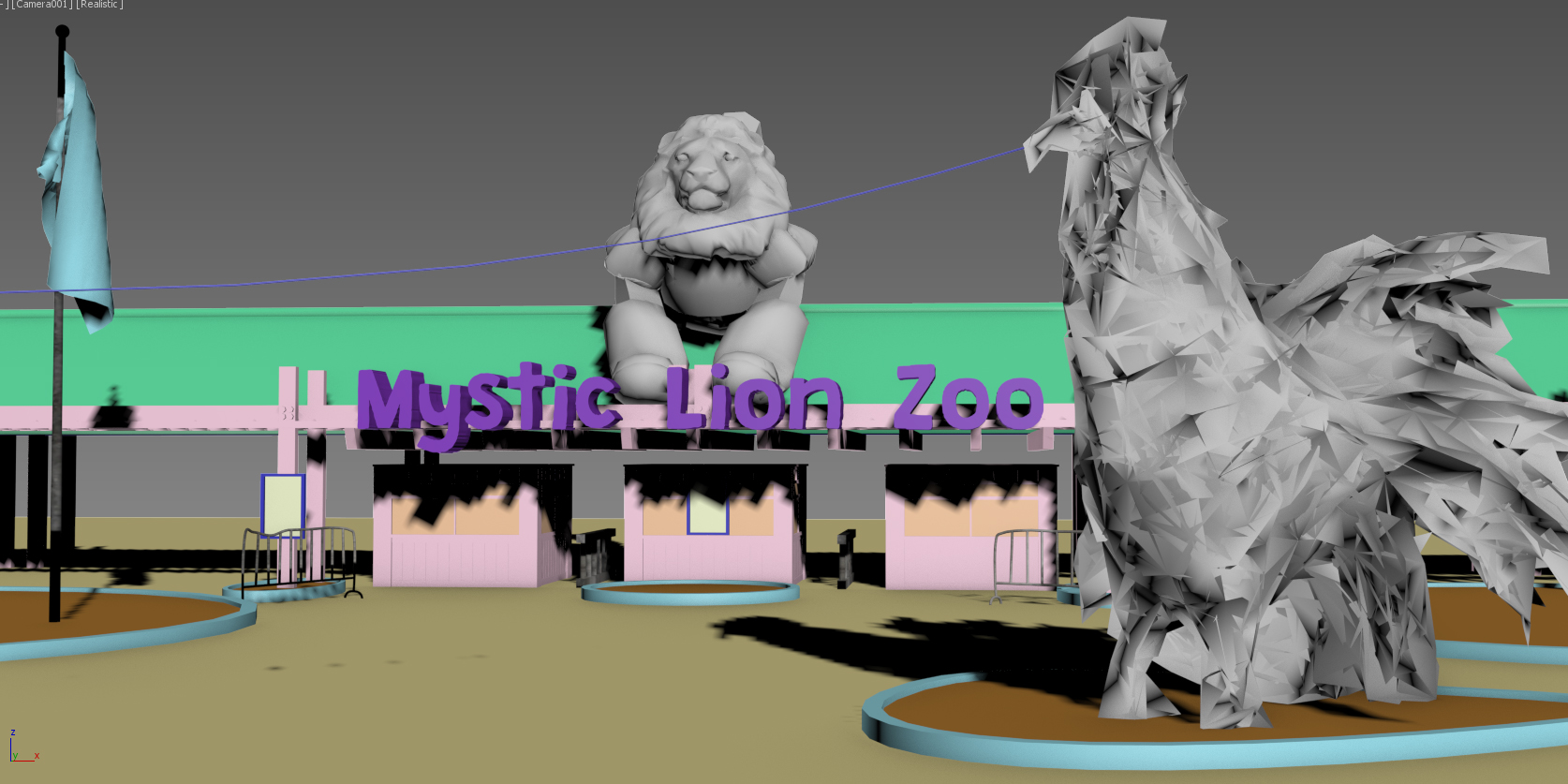 This is the entrance of the Mystic Lion Zoo as you can see. Then I added the textures and some vegetation (free assets). I also wanted to have a watercolor style on the textures, in order to remind of the first Francium game. So I tried to do a mix of 3D and watercolor. Here's an example with a single texture: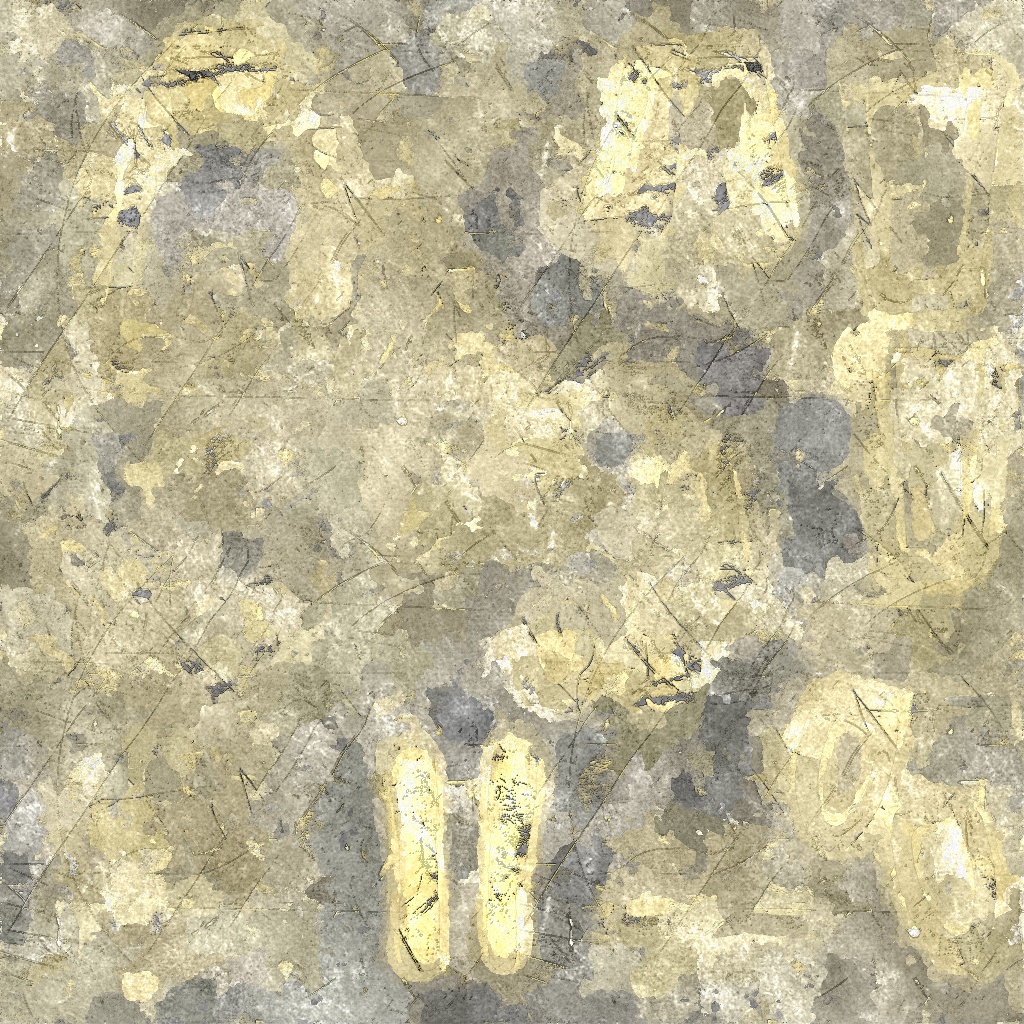 I have applied such textures on all the models in the scene. Then in Unity I have added lighting (a sun with a unity sky), clouds, and even the character called Roboto from Francium 1. This is how it looks: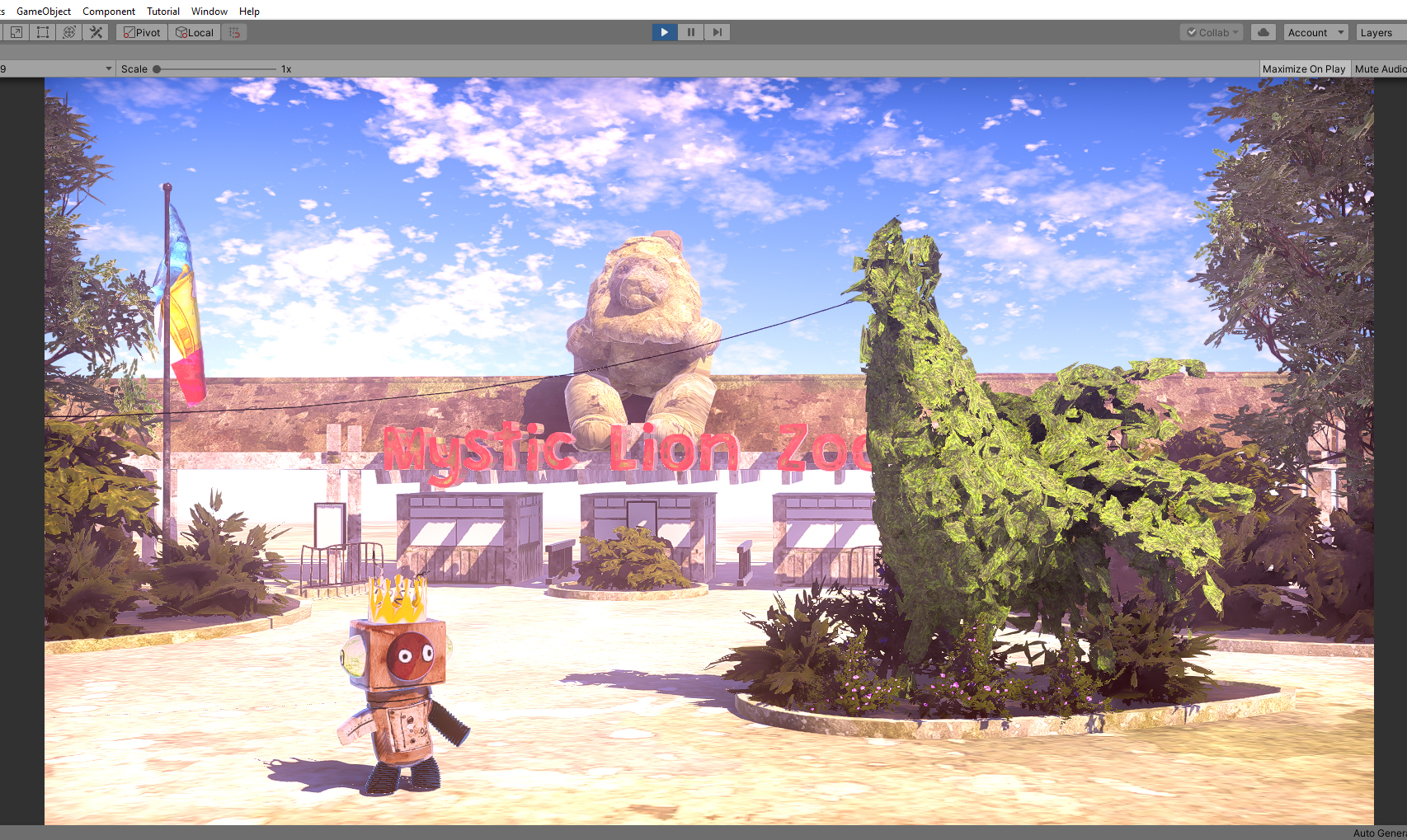 At this stage the game can be "played": the robot can walk in the scene. I did the same thing for the other scenes of the zoo: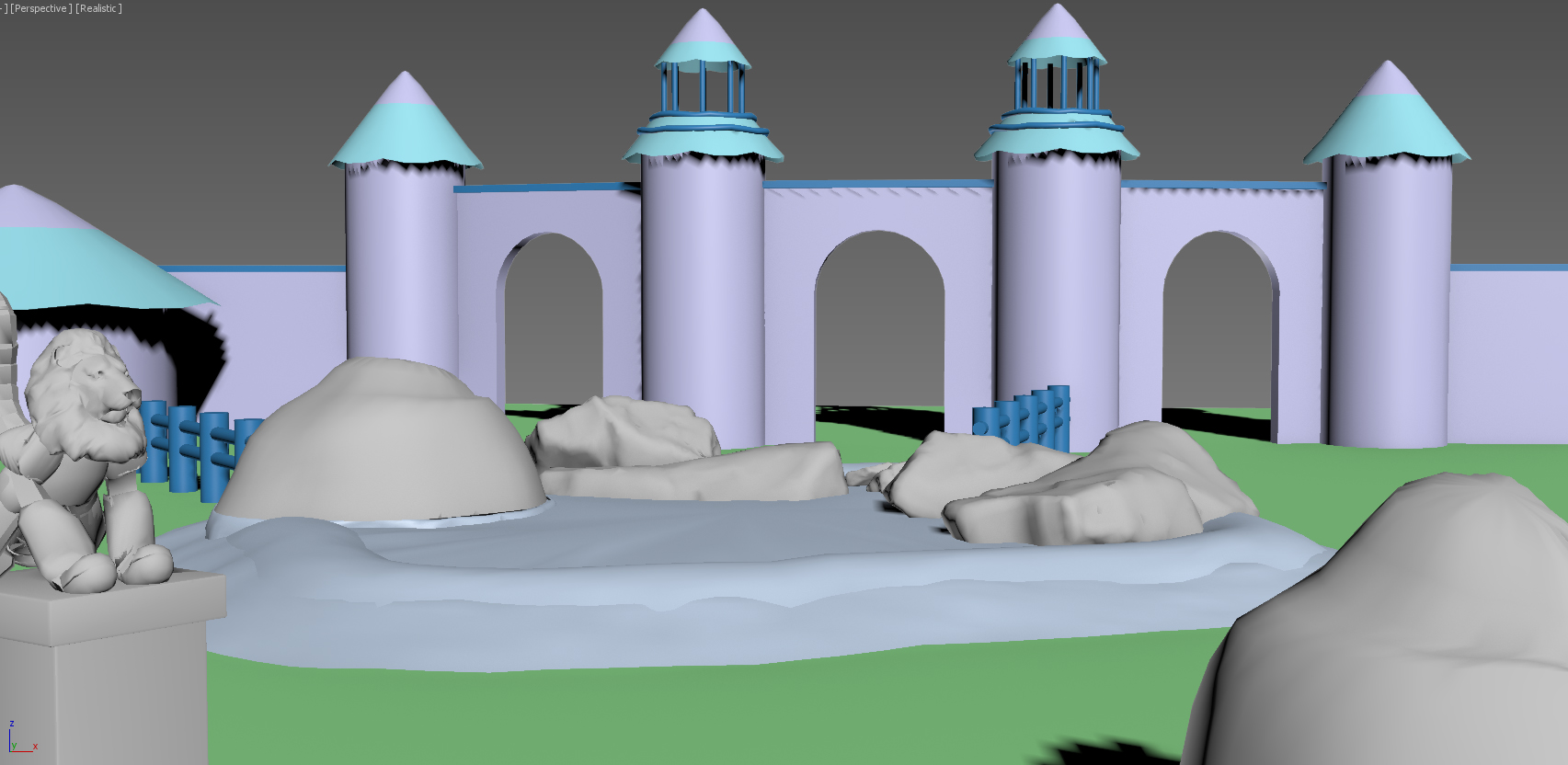 I put the textures and imported it in Unity next to the entrance of Mystic Lion Zoo: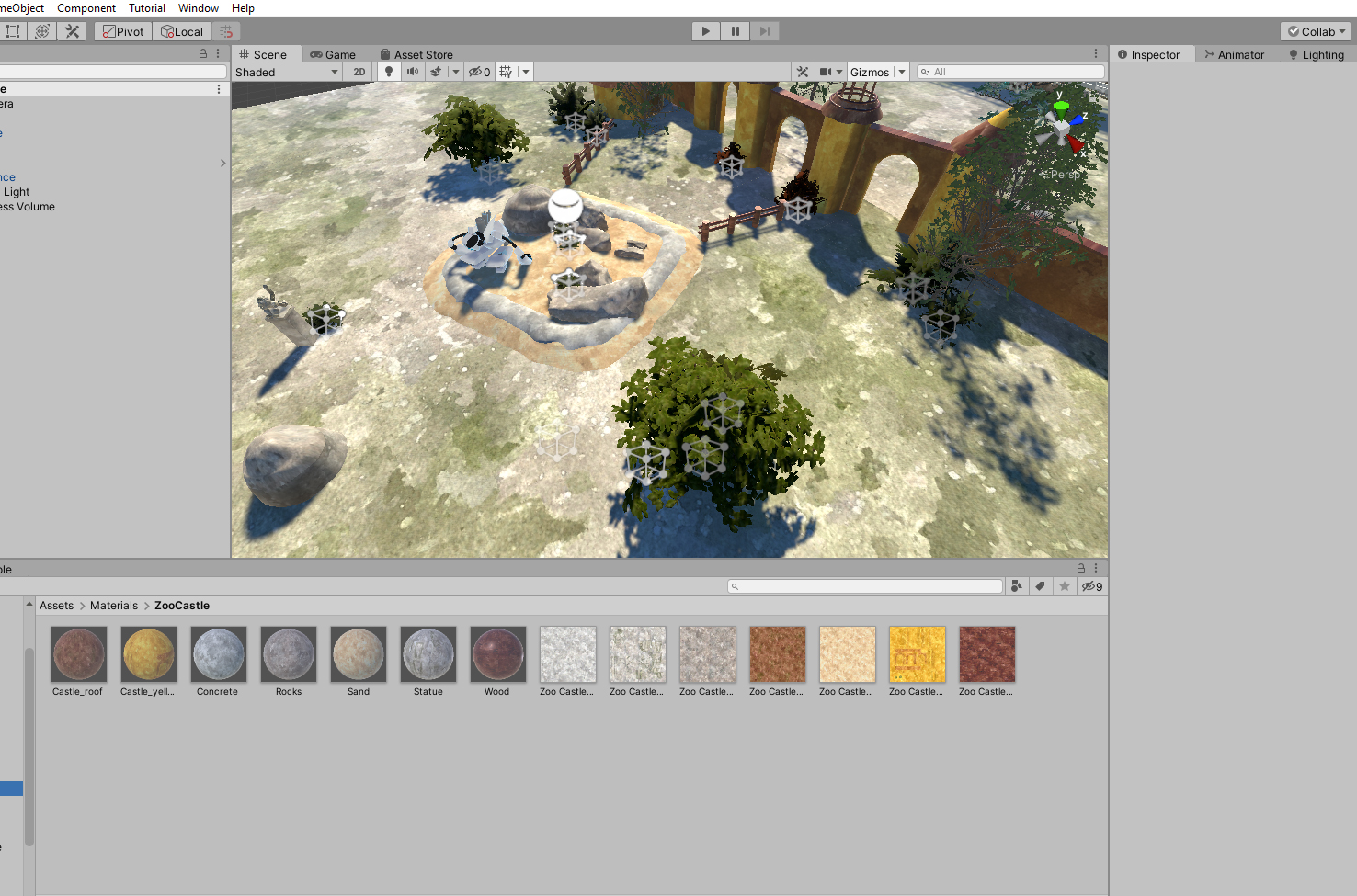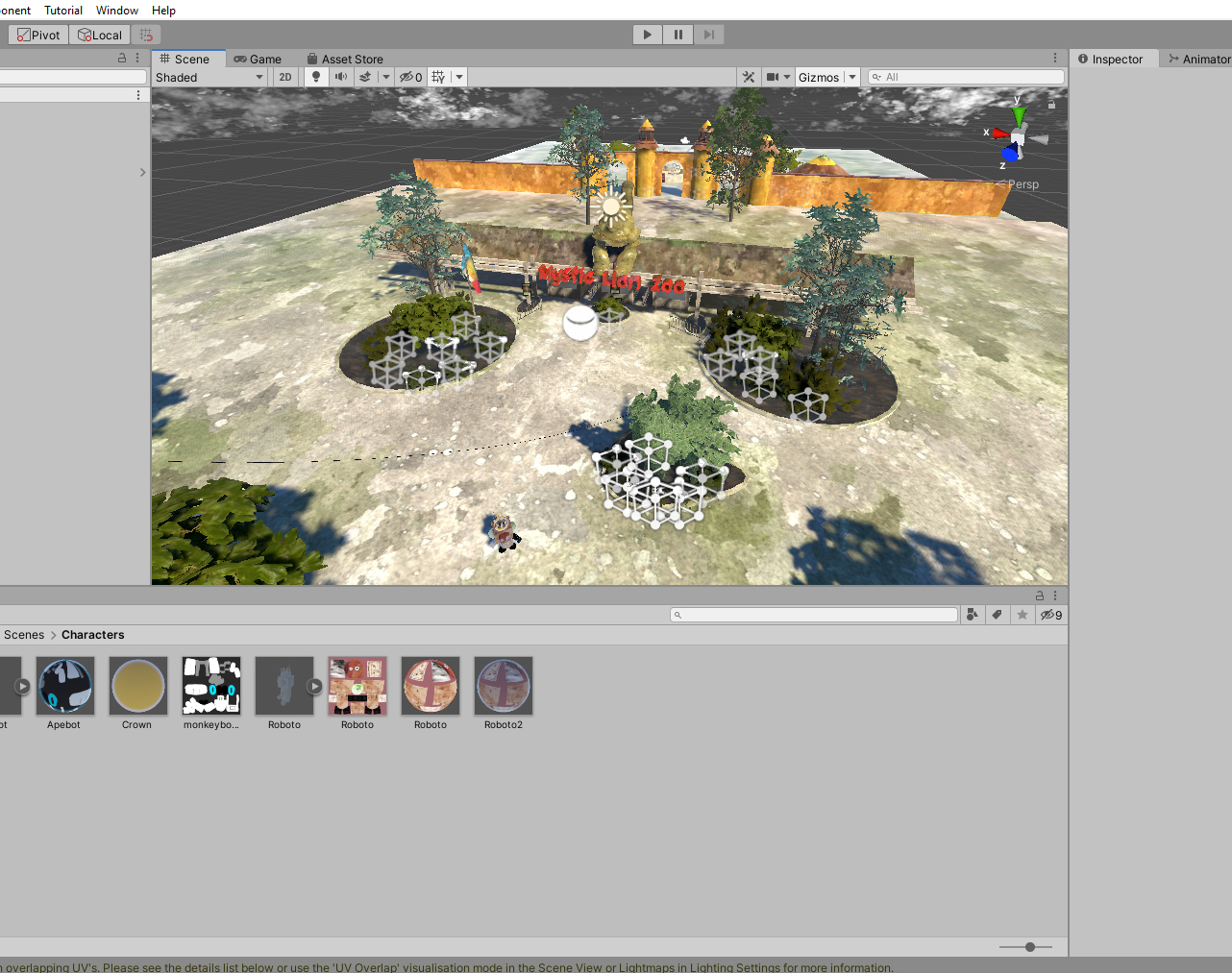 And this is how this scene looks like in the game with the defined camera: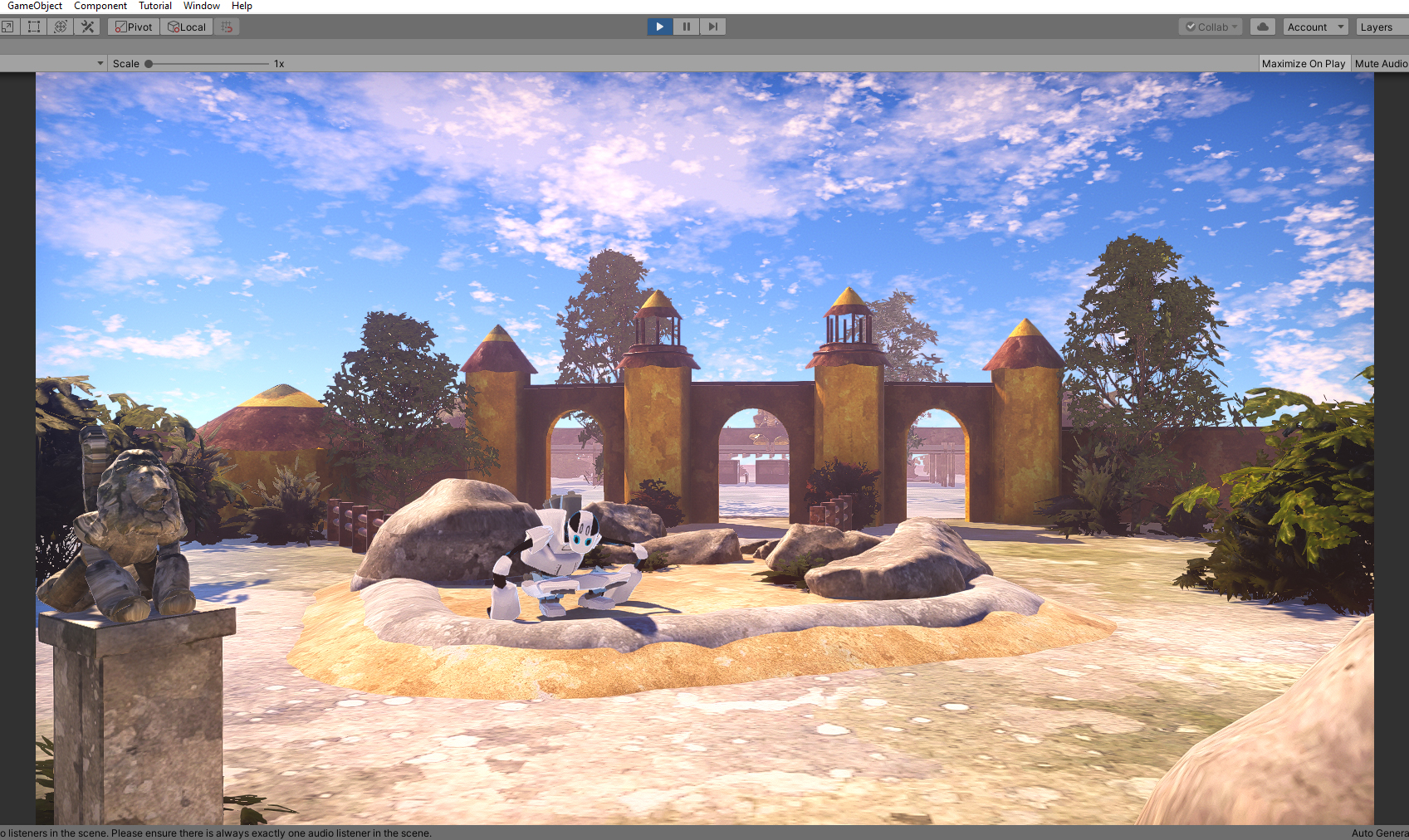 Seeing that it was working well, I was encouraged to continue like this and created 2 other environment scenes for the zoo: the vivarium (for snakes) and the ashram (for yogi robots and... well you have to play the game to know more!)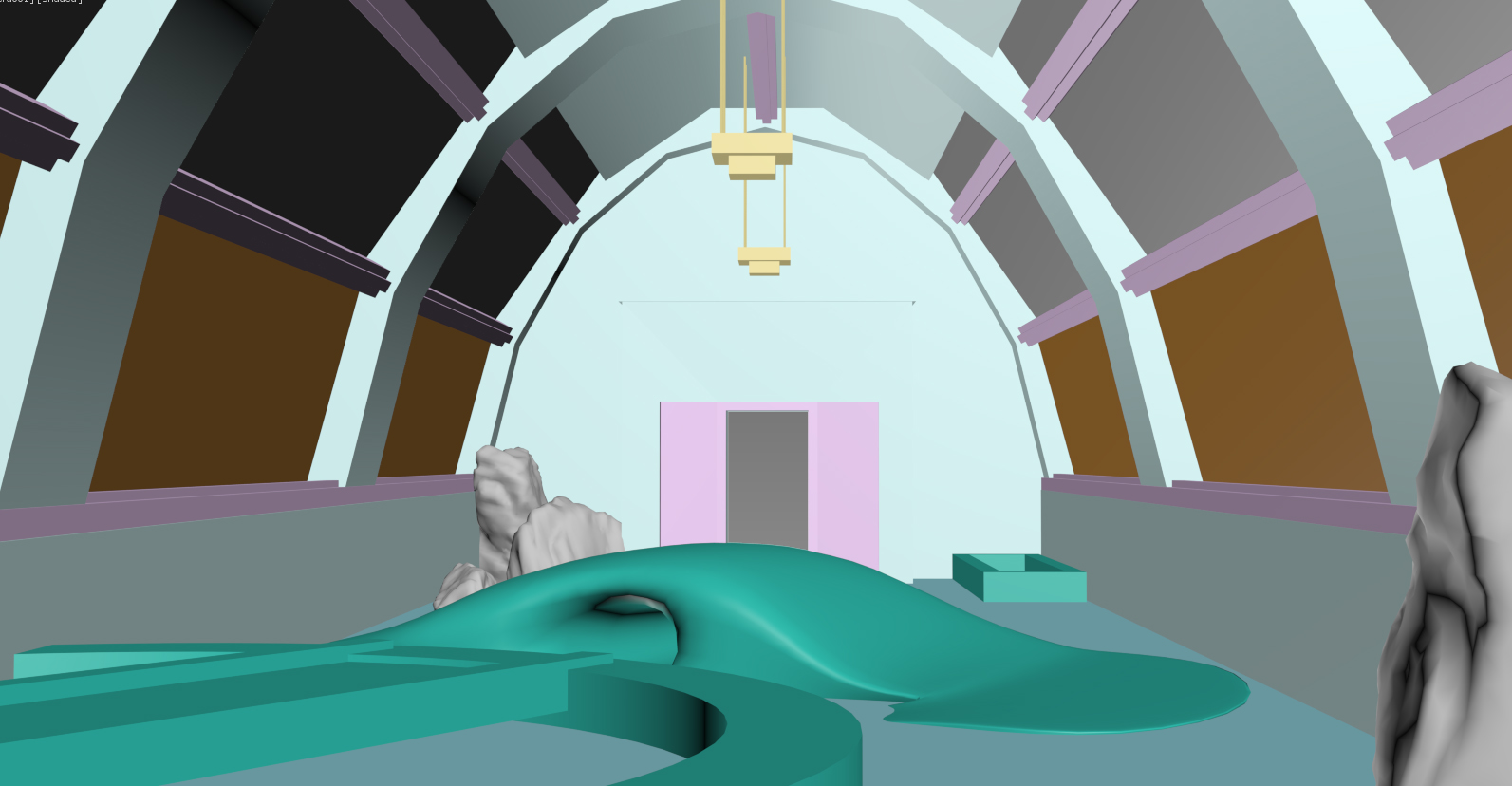 And that is how the game was created!
Then with Adventure Creator I put all of it together: wrote the story (characters dialogues), made interactions (inventory, item...), placed cameras, and tried to define a path to follow step by step for the player, in order to visit the zoo from the first scene (entrance) to the final ashram temple, by going through the other places seen above.

You can discover the result in the game! So please don't hesitate to download and play Francium at the Zoo! You can get it on the submissions page of AdventureX Jam, or here: https://the-icehouse.itch.io/francium3
If you liked it, please don't forget to follow me on https://twitter.com/Simon_ASA

Thanks for reading! Enjoy!

Files
Francium at the Zoo v1.0 (Jam release)
265 MB
90 days ago